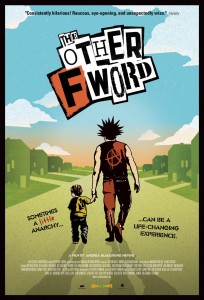 Having grown up on So-Cal/Skate punk music and culture in the 90s and at the time being a dad-to-be, I was really excited when I saw the trailer for 'The Other F-Word'. The trailers and plot synopsis I had read promised a film focusing on and documenting the parenting experiences of several important figures from that era of punk music including members of Pennywise, NOFX, Rancid, Rise Against and more.
Instead, the film turned out to be a documentary about Jim Lindberg of Pennywise's decision to leave the band to allow him to spend more time with his family. It showed the conflicts he had with his band members as he tried to balance touring for 200+ days of the year with raising a family.
Beyond that, there wasn't much substance to the movie. There were little tastes of punk parenting experiences interspersed throughout the film as they reflected on Lindberg's career with Pennywise and most of them were disappointing and helped me to realize how far removed from that scene I am now. The punk scene was portrayed as just mindless rejection of authority and defiance. The different punk fathers featured in the film were typically irresponsible, immature and neglectful parents. Musicians like Fat Mike and Duane Peters were quite candid about alcohol and substance abuse being an equal or higher priority than their children and Josh Freeze of the Vandals and his older son was shown playing catch with his youngest son's dirty diapers.
While there were some good stories mixed in, I don't think these fathers accurately portrayed parenting in the punk community by any means. Overall, the movie didn't live up to what it promised it would be and portrayed the punk community as irresponsible parent figures who just aren't willing to and aren't ready to grow up.