Yesterday was Edie's 5 week birthday so I decided to track the events of our day. I actually started tracking things on Sunday night and it's really amazing all the things that Edie and I do together in one day especially once it is all down on paper.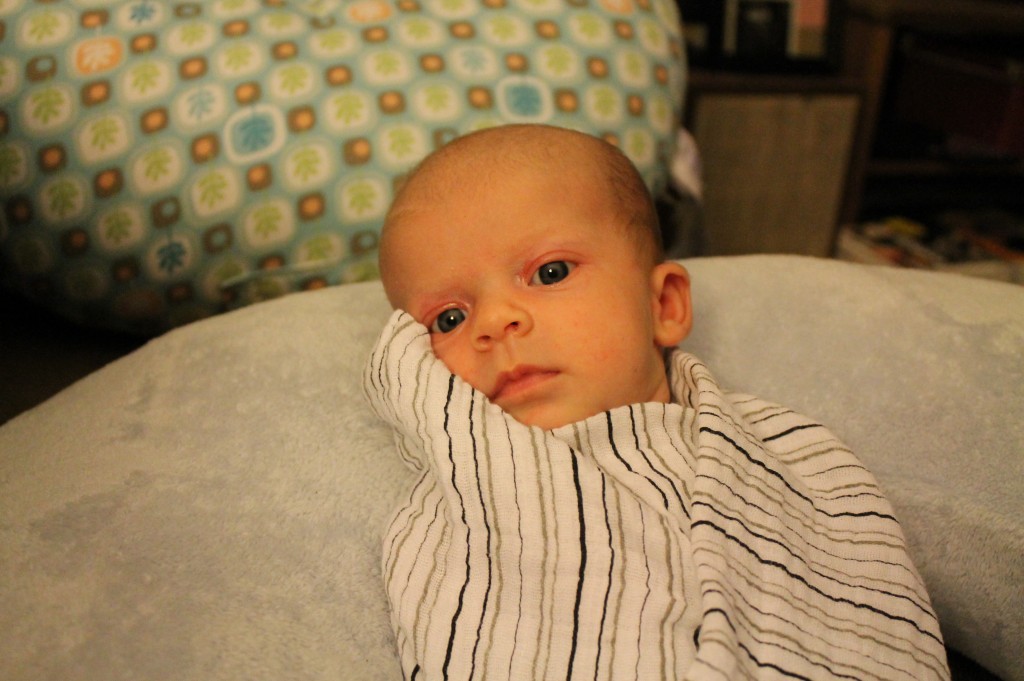 So Sunday we had an awful fussy day that was just exhausting but eventually Edie went down with very little resistance. So I started tracking things at 7pm Sunday night through 7pm Monday night.
Sunday
7-7:30p  After hours of fussy at the boob I finally had a good nursing session and then burped me and I was so exhausted from not getting a good nap in all day that I passed out cold.
11:28p I woke up ready for another nursing session with mom and then a burp and bounce session with daddy.
Monday
12:15a After a good 25 minute bounce and burp session I was finally ready to back to sleep.
3:25a I woke up ready for another nursing session followed by a big burp a fart and then mom thought I was ready to go back to bed but instead I wanted to back for another round.
4:00a Finally full it was back to sleep for me. 
6:30a I woke up ready to face the day but first I was in desperate need of a diaper change and a feeding. d
7:00a Mom put me in my crib for a hangout session and I just ooh'd and ahh'd for awhile.
7:15a Well crib time got boring so I headed over to my new favorite spot my swing for awhile….
7:40a Until that got old and I decided to hang out in my blue bouncy chair for awhile.
8:05a Okay enough of the cribs, swings and chairs I'm ready to eat again!
8:25a All filled up I laid on mom and dad's bed for awhile and watched them get ready for the day.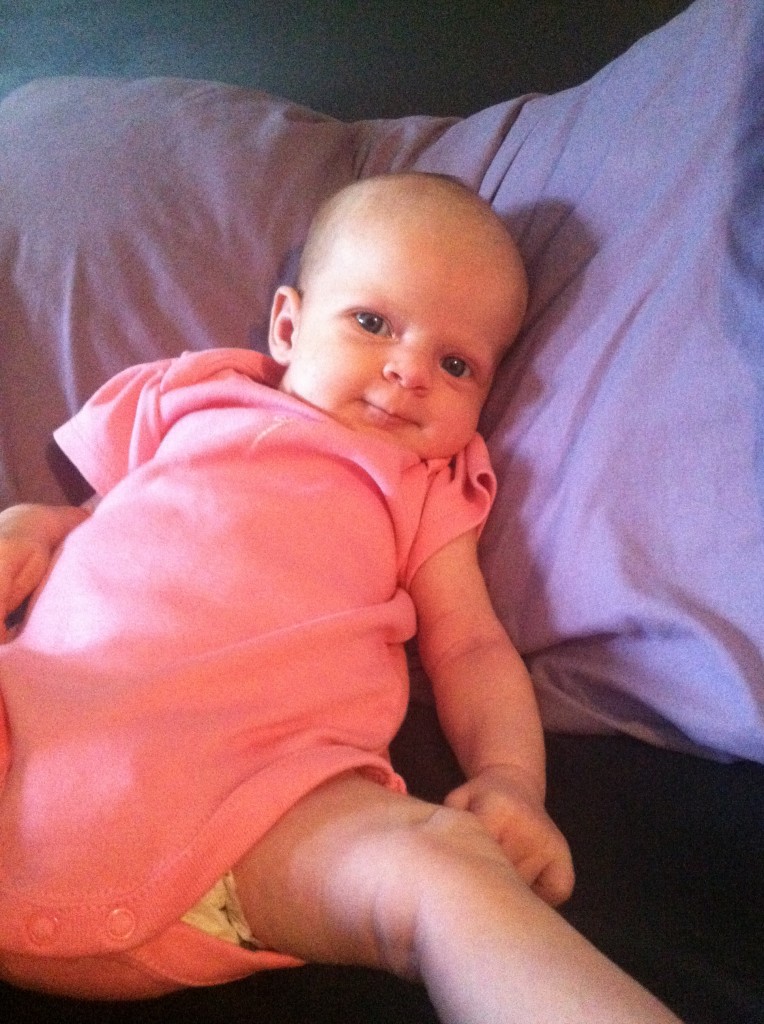 8:30a Finally time for another diaper change before heading to bring dad to work.
9:10a Drop dad off at work but then I was feeling hungry but mom was driving so I just let her know the whole ride that I was in need of a feeding, since I can't talk yet I chose to scream.
9:25a I think I finally got mom's attention because she took me out of my car seat and finally fed me.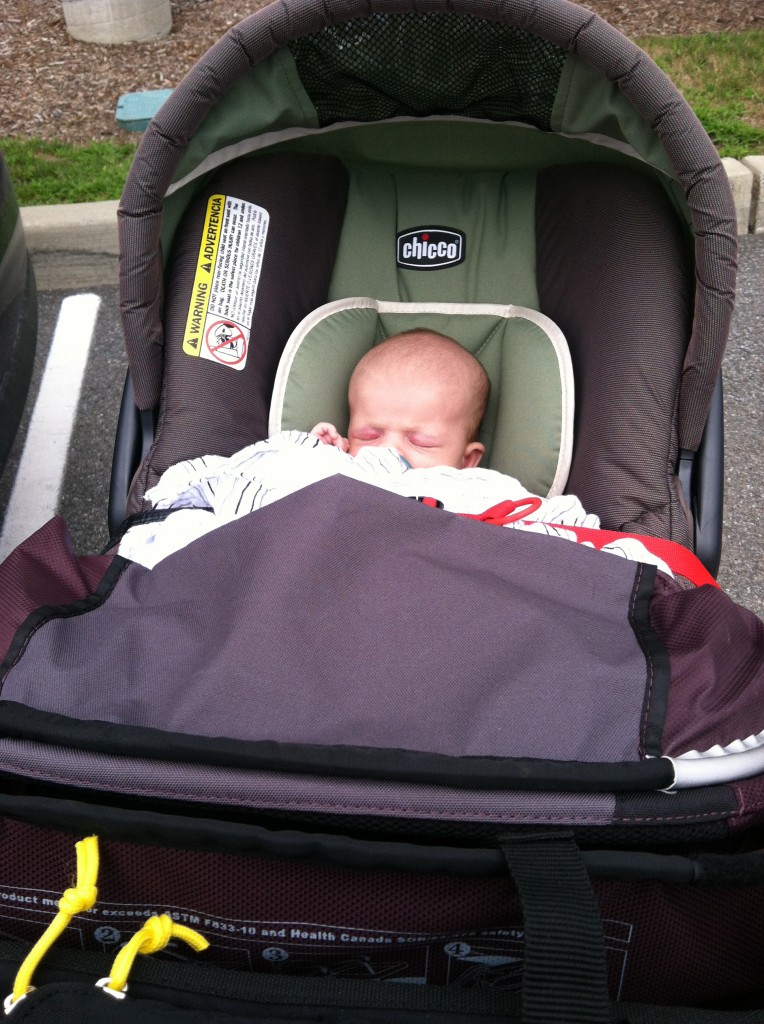 9:45a Full again I got back in my car seat and then my mom put me in the stroller and we went shopping at Healthy Living.
10:15a Exhausted from shopping I decided to fall asleep in the car until we got home and then mom changed my diaper and I went back to sleep in the blue bouncy chair for awhile

12:15p After a good nap I was ready for another meal so I let mom know with a nice big wail but it didn't have to last long she swooped in and picked me up and we got down to business.

12:50p I decided that mom's day wasn't exciting enough so I decided to deliver her a "poopsplosion" in my diaper what that is you don't really want to know but let me tell you it gave me a good smile when she opened up my diaper to find it. It even meant getting an outfit change it was that good.

12:55p Since I was feeling good after my diaper change I decided to give mom a good snuggle and took a nap on her shoulder for awhile.

1:50p I woke up to find myself in my Boppy Chair (mom must have needed to get some work done) I looked around and then mom decided to check my diaper and boy did it need a changing.

1:55p After my nap and diaper change I decided I really needed to eat so mom and I settled in on the couch for a nice nursing session except I wet myself and needed to be changed half way through because I was really uncomfortable.  Once changed I finished eating and was ready to relax.

2:30p I relaxed in my swing for a bit while mom did a quick workout.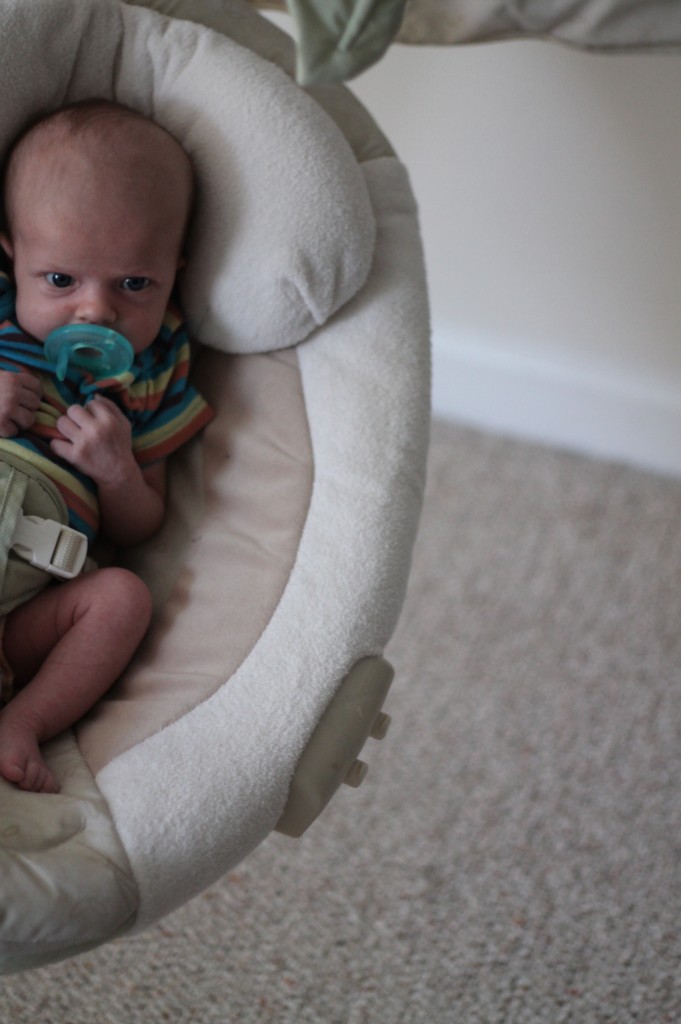 3:00p Mom finished her workout and then we hung out on the blanket for awhile and I stared at the fishes (my favorite thing to do).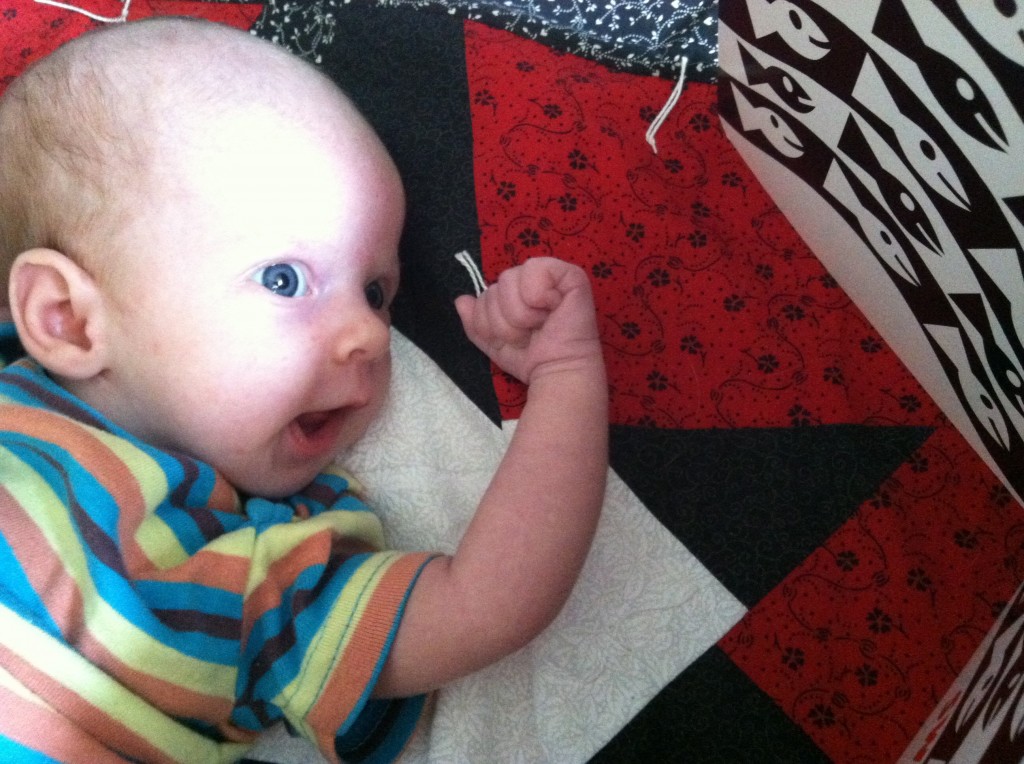 3:15p It's that time again- diaper changing time! Don't worry I didn't surprise mom with another poopsplosion it was just a little one.
3:20p Well all that swinging, staring at the fishes and pooping sure made me work up an appetite so it was back to the couch with mom for another nursing session which was interrupted by a diaper change half way through.
3:50p Mom placed me back in the swing where I promptly feel asleep.
5:05p Time to wake up! I woke up ready for a diaper change and ready to eat.
5:40p It's almost six and since that is my "witching hour" I decided to get started a little early with my screaming especially since daddy just walked in the door and I know he was looking forward to bouncing me all day.
5:50p Okay I guess I'll calm down while you eat your dinner so long as I get to swing.
6:05p Alright you calmed me down in the swing so I'll cuddle with daddy for a few minutes.
6:10p Okay over cuddling lets get down to feeding.
6:30p Alright back with daddy for a bit while he bounces me in the chair and reads me Pat The Bunny.  After we read he swaddles me and tries to get me to go to sleep but let me tell you I had no plans on going to sleep until at least 10:30p. Good thing Grandma is coming over tomorrow because I plan on getting mom up a few times through out the night and waking her up at 4:30a to nurse and play.