I really can't believe that Edith is now two months old. She is no longer a little newborn baby and she is growing like a weed.  It's amazing how each week she becomes more interactive. She is starting to coo and babble and is all smiles now.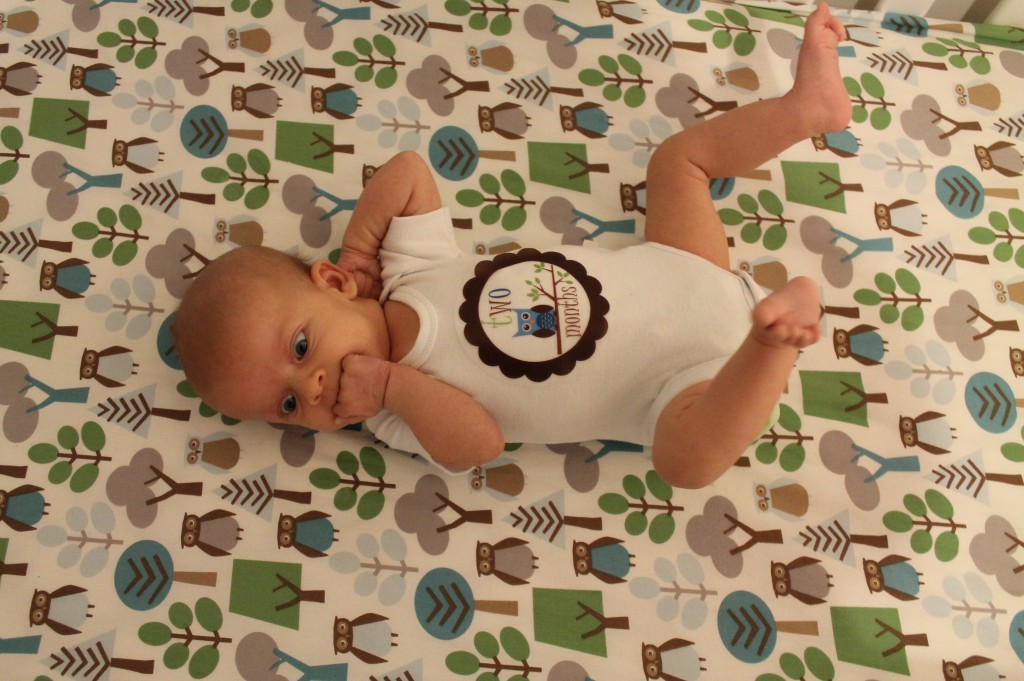 Likes: Eat and then eat and then eat some more. She recently found her hands and loves to suck on her fist, thumb and finger; it's pretty hilarious. She still loves being bounced on the exercise ball to be soothed but recently has also taken to being patted on the back or bum. She also came to really enjoy her swing around five weeks which has been a life saver for our backs and does a great job in soothing her when we are sore from bouncing. Something else that's new is that she is really enjoying taking a bath.
Dislikes: Being in her car seat <–so frustrating. Our baby who once did an amazing job riding in the car or her stroller (has the car seat adapter) now screams 9 out of 10 times we put her in.  Naps. Yes, naps she is boycotting them– HELP!
Sleeping: Sleeping has been going fairly well at night and even had two nights of 7-7.5 straight hours of sleep this week but as I said above Edie is boycotting naps and by the end of the day she is exhausted.  I really am trying to respect her need for naps and when I am home alone with her during the day I jump to try and put her down for a nap the moment I see a yawn or her playing with her ears but she just won't go to sleep- I am losing my mind and my house is a mess since my usual cleaning times are being spent trying to get Edie to sleep and no sleep happening.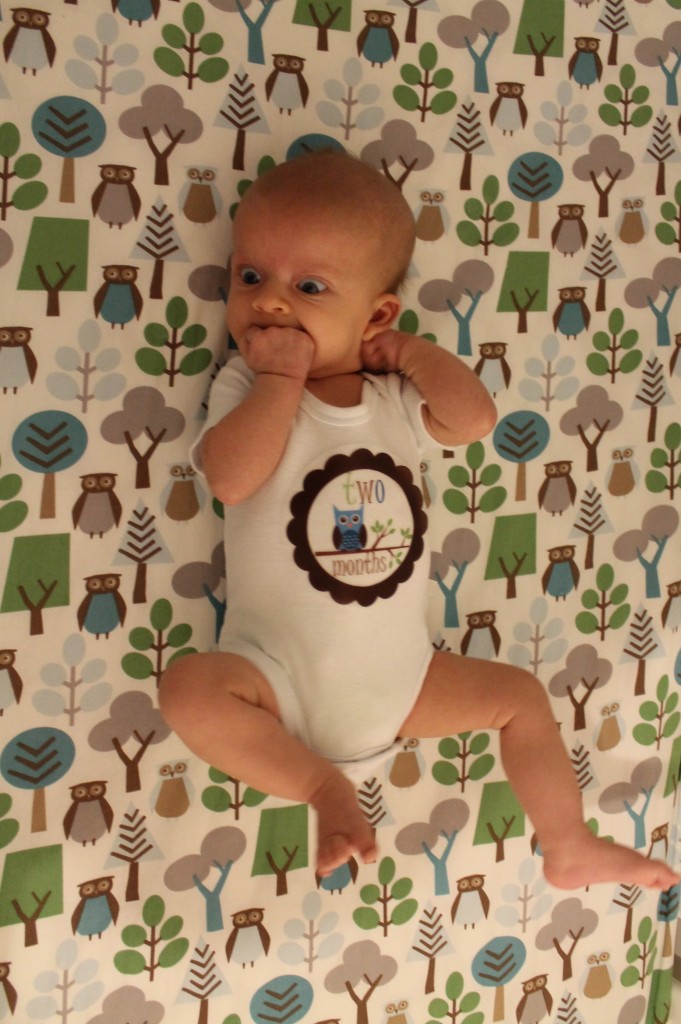 Eating: Still loving eating all boob all (okay 99%) of the time. She is taking a pumped bottle about once or twice a week from Neil.  I wish she could have one more often but I have trouble pumping enough for her.  I don't have an oversupply and she nurses every 1.5-2 hours (sometimes ever 45-60 minutes) and with no naps it seems like she is eating more. Lately I have been making an effort to pump right before I go to bed because she has been sleeping a minimum of four hours before needing to nurse at night, some nights I get 2 ounces and others only .5 ounces.  Oh how I wish I had an over supply.
Playing: We love to do workouts together, our favorite being Shiva Rea's Mama & Baby yoga.  We also read books and play on her play mat.
Wearing: Edie is still wearing newborn tops and bottoms but most of her newborn onesies are two short. She has just started to wear 0-3 months most of which are still pretty big on her especially pants around the waist.  For diapers she is still in 7th generation newborn, I tired the size one's last week but they were still a little too big for her and she is wearing workhorse newborn cloth diapers, bum genius newborn all-in-ones and a few larger cloth diaper although only at home due to the fact they are just a little too big and sometimes result in leaks.  I ordered a few more gently used bum genius newborn size (they go up to 12lbs) from Jillian's Drawers because it seems that it will still be a few more weeks before she is big enough for large sized cloth diapers and I'd really like to cloth diaper more exclusively but since we only have 15 that fit her really well and only 3 of them that I really like (more on this later) we pretty much stick to cloth diapering at home only.
Here we go on to month three! Time is really going to fast but we have so many new adventures coming up this month that I can't wait to share with you all!
Here are some of my favorite photos from Month Two: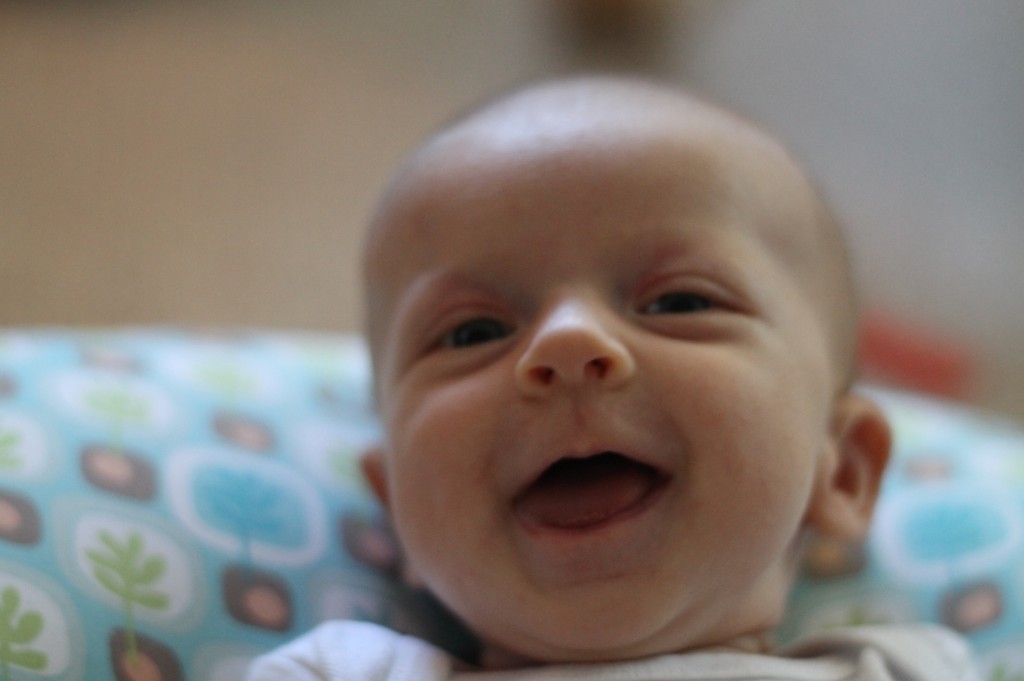 Big Smiles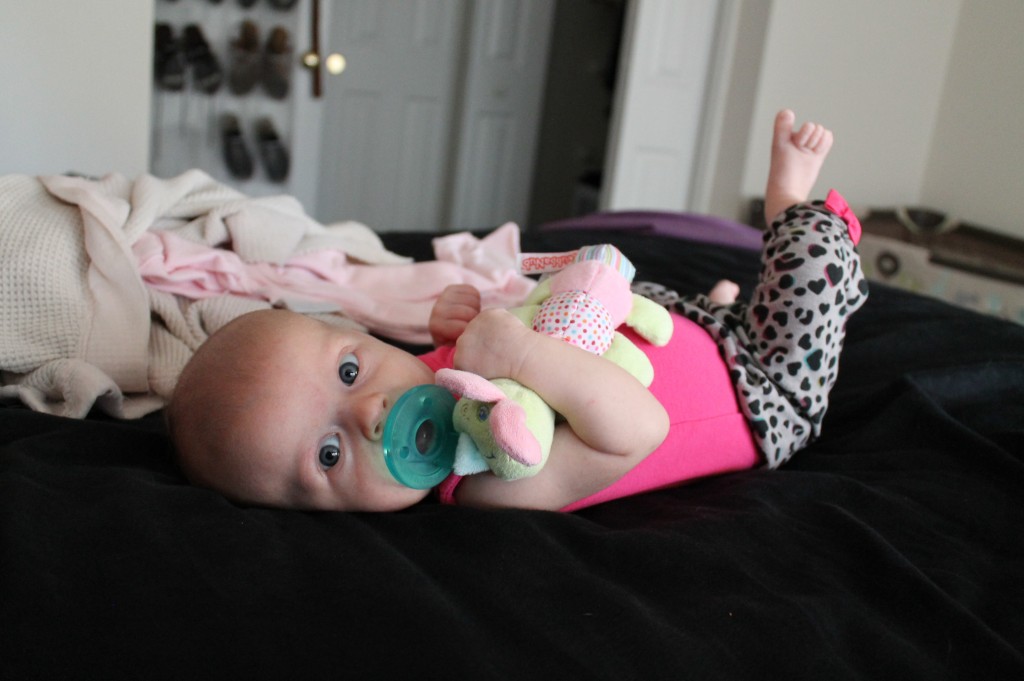 Loving her wubbanub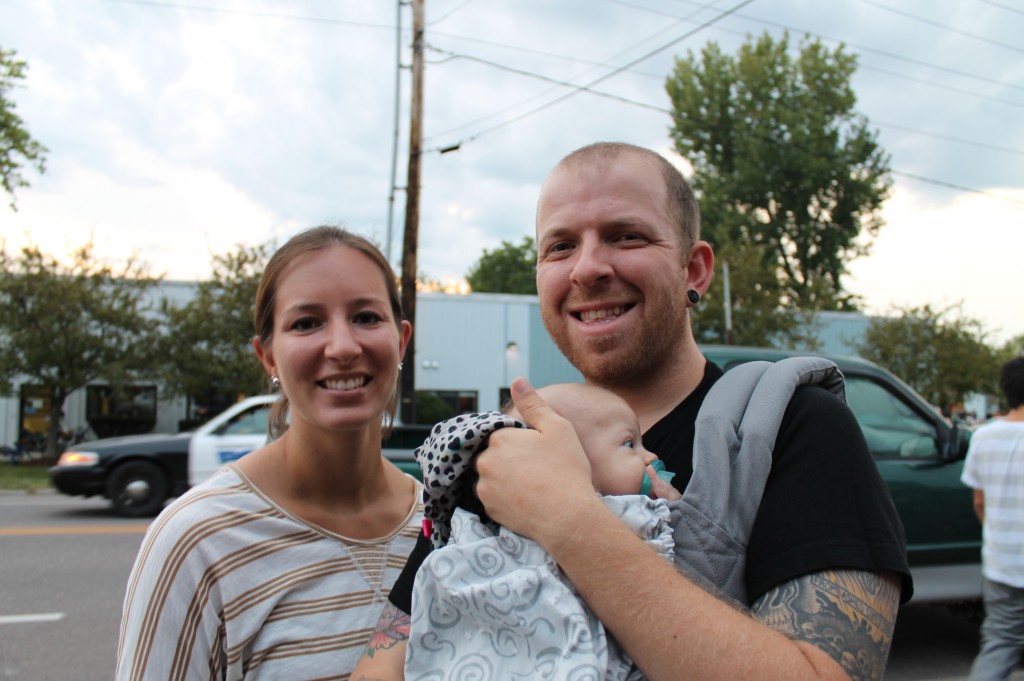 Edie's First Art Hop with Ma, Pa & Auntie Laura