If you haven't already, check part one of my first half marathon as a parent.
Tonight is as good of a time as any to reflect on my half marathon, as I wait for the cloth diapers to finish in the wash on the eve of our next trip to Montreal. I left you in the last post as I was starting to make my way through the course. Since it was a waved start and I ended up back a corral, I got stuck in a slower corral than I had expected to be in. As a runner, I've only ever felt comfortable going a pace I'm accustomed to going. I especially have a hard time running at a slower speed than I am used to or than I expect to be running. My mind starts to wander and I sometimes feel like I could just stop running and just walk. I encountered this feeling as I was stuck doing a 12:00 – 12:30 minute mile for the first 2 mile or so. But, I pushed through this and just kept running, all the while looking for my pacer as I ran. The pacers were supposed to be holding a tall pole and wearing rabbit ears to make them easily identifiable. As we came up on a windy part of the course that took up the better part of two miles, I spotted my pacer across the course, at least a mile away from me. My only assumption is that he was waiting at the starting line and left when the 13th corral left, a good 10-15 minutes ahead of me. At this point, he was well ahead of me and I had no chance of catching up without burning through my energy that I needed to make sure I finished the race. I latched on to a few other runners who seemed to be running at a pace that I was comfortable with and stuck with them as I made my way through the first couple miles of the course. I find it easier to rely on keeping pace with other runners who are doing a steady pace than trying to pay attention to my watch and make sure I stay at a steady pace myself.
The first 5 or 6 miles were relatively flat, with little to no hills to speak of. It wasn't until we were leaving the amusement park area and getting on the bridge heading into the city that we hit our first hill. I was determined to power through it and run that hill without walking and get off that island. You see, I often fall into walking when I feel bored or like something might be too much of a challenge. I was able to convince myself that I was going to run through this hill and push on for as far as I can without stopping to walk. I made it through about 9 miles without walking at all which was probably the longest distance I had gone without walking at all. I was especially happy with myself as I had almost convinced myself not to run the race.
When we got off the island and across the bridge, we ran full on into a head wind. There was a point just after 9 miles where I felt the need to stop and take a breather. The head wind was rather strong and my legs were tightening up. I stopped and walked for a minute and then stretched out my calves and felt ready to push on. For the next 3-4 miles it seemed that every time I'd make it through a headwind, I'd turn the corner and be faced with a big hill. As we made our wait under the bridges and through old Montreal, I pushed through with a combination of running and walking. To be honest, my cardio/energy capabilities were allowing me to push right through, but my calves were tightening up more and more.
I knew Lindsay, Edith, my in-laws and our friend Allie would be waiting on the sideline cheering for me somewhere around the 20 km point (for our American readers, a half marathon is 21.1 km or 13.1 m), so once I hit mile 12 I knew I had to push through the rest of the course. As I watched for them along the course, I started to get more excited and the idea of seeing them was even more exciting to me than crossing the finish line. As I closed in on the last half mile, I saw Allie and my mother in law taking pictures along the course while Lindsay was nursing Edith and cheering me on! I pushed on through that last half mile and crossed the finish line ahead of my time from the Vermont City Marathon (2:17 vs around 2:20). While neither time was what I had hoped for, I am extremely proud to say I've finished two half marathons this year and it made it all the more special to know my family was there watching and cheering me on.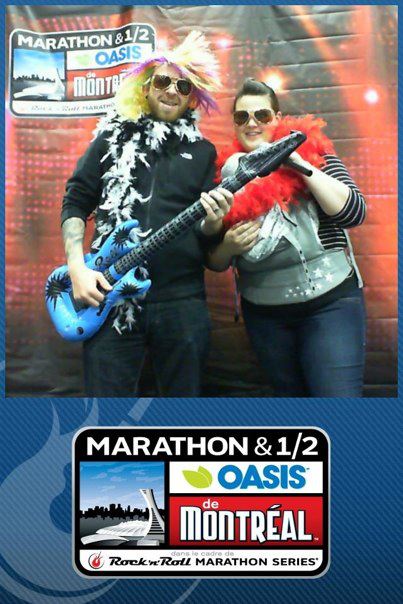 So, the dumbest idea I've probably ever had was signing up for a half marathon before Edith was born.  But, it was also one of the best decisions.  To be fair, I had my doubts about it, thinking that I would have no time to do anything but parent in the first few months.  While Edith has proven me wrong about that, a new position at work has made fitting my regular runs into my schedule a bit more challenging.  At times, it seems I get up and start working, then go to work, come home and spent some much needed time with the family and then get back to work.  With multiple deadlines and multiple distractions making those deadlines more challenging, finding time for my training runs proved more and more difficult.
However, when I saw that Montreal had a Rock 'n' Roll marathon and shared that with Lindsay, I signed up to run my second half marathon of 2012 at Lindsay's insistence. My first half was the Key Bank Vermont City Marathon at the beginning of the summer, here in Burlington, Vermont.  While I thought I trained somewhat well for this race, I had some problems where my legs locked up and I was left walk-running/limp-running the last 4 or 5 miles.  My goal for this race was to improve on the finish time I had at the VCM.  Having already completed one half marathon, I decided to train using Hal Higdon's Novice 2 training program in an effort to improve on my previous time.   When I chose this plan, I had the best of intentions.  I figured I'd find an hour or so a couple days a week at work to fit in my shorter training runs and Lindsay and I both figured that finding time to do my long runs on the weekend wouldn't be a problem.  As the runs on the plan got longer, I started taking more and more shortcuts.  I would skip one of the shorter, 3 mile runs each week and would often find myself delaying my long run or just skipping it all together.  As the race got closer, I began to get more and more nervous about whether I'd be able to complete the race.
After giving a presentation to a couple hundred people at work on Friday afternoon, it was time to hit the road and head to Montreal to get settled in for the weekend leading up to the race.  We found a great two bedroom in the Plateau neighbourhood of Montreal on AirBNB.  We arrived in Montreal around 7 PM on Friday night (after a few wrong turns thanks to Lindsay's dad).  The landlords owned a shop on the first floor and one of their employees was able to show us the low down about the apartment.  The apartment was up a steep set of stairs to the second floor and after 5 or 6 trips up and down for luggage, I had a feeling that those stairs would tire my legs out over the next few days.  After a false start ordering online, I made the trip to our favourite spot for food in Montreal, Aux Vivres where Lindsay got a Buddha Bowl and I had the macro bowl. Some good, nutritious food to start the marathon weekend off was just what we needed.
We woke up Sunday morning and after some coffee from across the street, we hit the road and grabbed a Metro to the Place Bonaventure for the marathon expo to register and pick up my swag bag. Now, the only race expo I had been to was for the VCM which was a significantly smaller race, but this expo was far and away the best one I'd been to. I started out picking up the swag bag where I got a really great, high quality brooks tech shirt, a "backpack" and a free t-shirt I had won from the Brooks booth. Lindsay and Edith even beat me at the skeeball game! It definitely wasn't fair since it was two against one! One mistake I did make was walking entirely too many miles around Montreal the day before the race.  This only added to my doubt about how I would do in the race and whether I could complete it.
After a nice quiet night with Lindsay (which included our first 45 minutes alone since Edith was born) where we took a trip to the grocery store to pick up some supplies for dinner, I headed to bed early to get some sleep before the big day.  After tossing and turning all night, I woke up to my alarm at 5:30 am and went through my pre-race ritual of chugging a pint of water, drinking a cup of coffee and having a small breakfast.  At this point, I was shaking with anticipation (I'm always nervous before a race, even the smallest ones) and made the final decision to run the race.  I did make sure I knew where all the metro stops along the run were just in case though!  I stretched and then headed downstairs to the bus station right outside the apartment.  After standing there waiting for 10 minutes, I finally realized that the bus was not actually running that day due to the marathon.  I then headed the mile or so down to the Mont Royal metro station to catch the metro to the island, where the race was happening.  Where there would normally be 1 or 2 people boarding the metro at 7 am on a Sunday morning, there were literally thousands of racers heading for the race.
After arriving at our final destination, (Jean Drapeau metro) I made my way to the nearest washroom.  Only to be stuck in line for what seemed to probably be a small, public, park washroom for about half an hour before giving up.  I decided there had to be the normal bank of porta-potties somewhere closer to the start line and filed in line behind the swarm of other racers heading towards the start.  It was a cold, windy morning on the island as we walked the 2 km or so to the start line on the bridge.  Once I finally made it to my corral (#13, the 2:15 projected finish time) on the bridge, it was another 45 minutes to an hour of shivering and hopping around trying to keep warm before our corral made our way to the start.  As they announced corral 13, we still weren't at the start line, it would appear the stragglers and people going to the washroom along the bridge were enough to form another corral in front of us.  So, they finally called corral 14 and we were off, starting to make our way through the course.  At this point, there was nothing I wanted more than to be able to run and warm up in the sun.
Stay tuned for the rest of my half marathon story!